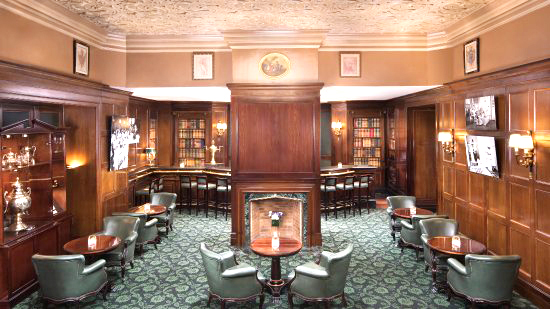 Tomarse un cóctel en su Museo Bar puede ser la excusa perfecta para conocer este exclusivo hotel Westin Palace. 1912 Museo Bar Palace es una de las coctelerías más clásicas de Madrid donde podremos tomar cócteles desde 14 euros. La Música en Vivo a cargo de un pianista acompañará en todo momento.
Drink a cocktail in their Bar Museum may be the perfect excuse to get to know this unique hotel Westin Palace. 1912 Museo Bar Palace is one of the most classic cocktail bars of Madrid where you can enjoy cocktails from 14 euros. Music live by a pianist will be accompanied at all times.
Su propuesta presenta una treintena de mezclas tradicionales (black russian, mimosa, bellini, dry martini, whisky sour) combinada con otras de creación propia, como el Majestic (ginebra, Cointreau, cordial de lima, zumo de limón y mermelada de fresa) o el Sfera (vodka, Grand Marnier, curaçao azul, zumo de maracuyá y sorbete de mandarina).
Podremos disfrutar, además de cocteles, de cafés, vinos por copas, jerez, cavas, champagne, whisky ron y una oferta de snacks para acompañar la bebida.
CONTACTO
1912 Museo Bar Palace
Plaza de las Cortes, 7 (hotel Westin Palace )
Tel:913 608 000
De 11 a 2 h. (domingos, hasta la 1 H.)
Cócteles desde 14 euros.