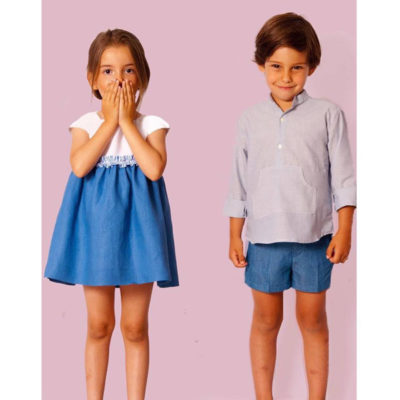 A Gatas es una empresa textil española creada en 1991, que dispone de prendas muy exclusivas y de gran calidad para los más pequeños de la casa. A pesar de que sus colecciones pueden encontrarse por diferentes tiendas multimarca del país, cuentan con una propia en c/Mantuano.
A Gatas is a Spanish textile company established in 1991, which has very exclusive garments and quality for the smallest of the House. Its collections can be founded by different multibrand stores in the country, but they have an own store in c/Mantuano.
Desde sus inicios han apostado por la producción española, garantizando la exclusividad y calidad de todas su creaciones. Confeccionan sus prendas en España y de una manera personalizada, adaptándose a las necesidades de sus clientes y permitiendo así ofrecer unas colecciones únicas. La marca A Gatas comprende edades de 0 a 12 años. También disponen de otra marca, Cul de Sac, enfocada a las teenagers, cuya venta se hace a través de su Tienda Online.
También disponen de colección de comunión. Diseños que realizan totalmente a medida y de una manera absolutamente personalizada, pudiendo elegir el tejido, modelo o fajín.
Contacto
A Gatas
c/ Mantuano, 14 – 28002 Madrid
Tel:  914 167 167 – 685 506 436
Horario: de Lunes a Viernes de 10 a 14 h. y los miércoles de 16 a 19 h.