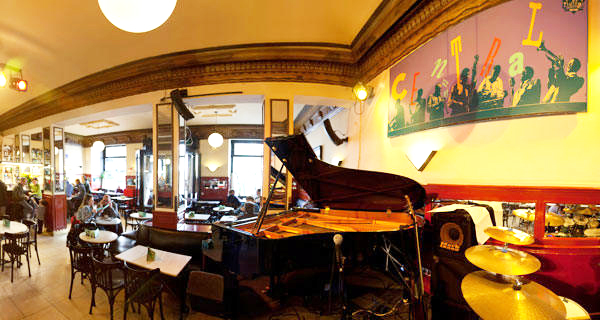 Hace 30 años un grupo de jóvenes amigos decidieron recuperar un antiguo local comercial y convertirlo en un Bar y Sala de Conciertos con Música en Vivo. Así nació y así sigue Café Central que mantiene a los grupos en el escenario por lo menos una semana seguida.  Muchos comenzaron siendo desconocidos y hoy en día son reconocidos grupos musicales.
30 years ago a group of young friends decided to recover an antique shop and turn it into a Bar and concert hall with live music. In that way it was born and still continues Café Central that keeps a lots og musicians on stage for at least a week.  Many began to remain unknown and are today renowned musical groups.
En Café central hemos tenido el honor de disfrutar sobre nuestra tarima de verdaderos genios de la música del siglo XX, algunos lamentablemente desaparecidos como Tete Montoliu, George Adams, Don Pullen, Art Farmer, Tal Farlow, Jeanne Lee, Lou Bennett, Mal Waldron, Sam Rivers, Stephen Franckevich … y otros a quienes el siglo XXI aun les traerá muchos y merecidos aplausos, triunfos y discos como Randy Weston, Barry Harris, Ben Sidran, Chano Domínguez, Pedro Iturralde, Jorge Pardo, Lee Konitz, Lew Tabackin, George Cables, Antonio Serrano, Concha Buika … semanas y semanas de música admirable.
También han recibido a cantantes populares de la calidad de María del Mar Bonet, Javier Krahe, Javier Ruibal, Martirio, Eliseo Parra, Ruper Ordorika, Lucrecia, Zenet, Natalia Dicenta, Guinga, Fátima Guedes… e, incluso otros géneros como el Ensamble Nuevo Tango, Ara Malikian, José Antonio Ramos, o aquelRoce de las Almas, que acercaba el mundo del famenco y del fado.
En Café Central cabe todo tipo de música: toda, jazz y no jazz, hacen que el mundo tenga una banda sonora digna de una vida.
CONTACTO
Café Central
Plaza del Angel 30
2012 Madrid
Tel 91 369 41 43
Web Café Central