Frutal ofrece la posibilidad de tomar un Zumo fresco recién Exprimido al momento y siempre delante del cliente con  fruta variada y fresca. Y claro que son deliciosos. En los meses más fríos también se puede disfrutar de un chocolate caliente o de diferentes tes. Los precios son asequibles, siempre teniendo en cuenta que se trata de zumos recién exprimidos. El zumo "pequeño" tienen un precio de 3'5 € y el mediano de  5 €.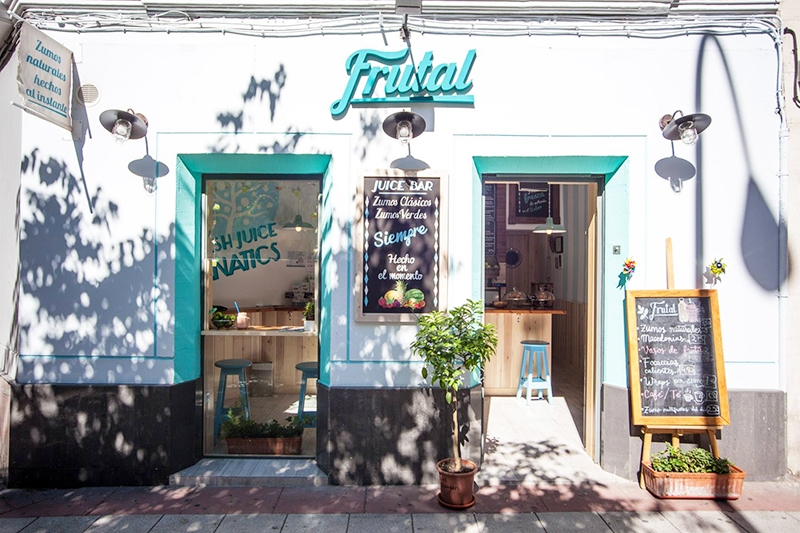 Frutal offers the possibility of taking a fresh juice freshly squeezed. They prepare it at the moment in front of the customer and always with fresh fruit. They are delicious. In the colder months you can also enjoy a hot chocolate and teas. The prices are affordable, always keeping in mind that it's freshly squeezed juices. The "small" juice have a 3′ €5 price and the median of €5.
Frutal ofrece toda una. propuesta de zumos frescos elaborados al momento con tres direcciones en barrios distintos: Azca, Chueca y Malasaña. La carta es extensa, como queremos, dividida en mezclas de frutas, mezclas de frutas y verduras, y mezclas de temporada, pero a cuyo resultado puede añadirse complementos naturales como el germen de trigo, las algas espirulina y wheatgrass o el polen natural. Piensan en todo.
Contacto
Frutal
c/ Gravina, 3 ( Chueca )
28004 Madrid
Tel. 649 061 800