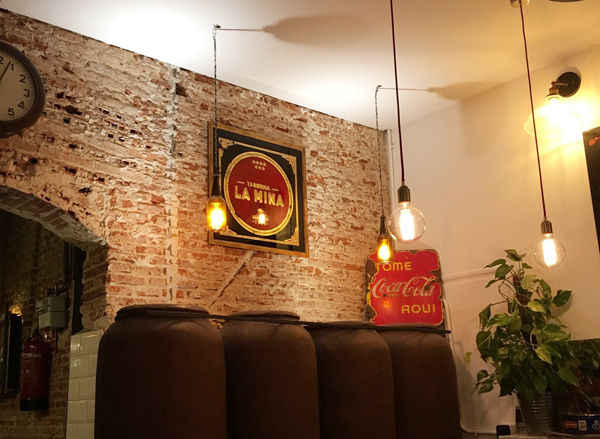 La zona de Ponzano se ha puesto muy de moda y allí descubrimos una de las Tascas La Mina  que aún sobreviven en Madrid con gran y buen ambiente. Es una Taberna antigua y un Museo para muchos turistas que buscan bares castizos y con solera. Si siempre fue un bar famoso por sus fantásticas raciones de gambas a la plancha y pinchos morunos, así que " para qué modificarlo" dicen los descendientes de este entrañable local. La barra de marmol y el suelo grisaceo no ha cambiado desde hace 40 años.
La propuesta gastaronómica esta basada en sus ricos Pinchos Morunos y sus gambas que hacen las delicias de cualquier cualquier persona exquisita.
Ponzano area has become trendy and there I discovered one of the La Mina bars still surviving in Madrid with great and good atmosphere. It is an old Tavern and a Museum for many tourists looking for exciting bars and solera. If it was always a bar famous for its fantastic portions of grilled prawns and kebabs, so "why change it" say the descendants of this beloved local. Marble and gray floor bar has not changed for 40 years. The proposed gastaronomica is based on its rich kebabs and their shrimp which delight of any exquisite anyone.
En este bar y en los alrededores de la zona siempre encontrás ambientazo de gente joven. Yes que Ponzano es una referencia para la gente que busque reunirse con gente de la zona a tomar una caña o a pasar un buen rato.
CONTACTO
La Mina
c/ Gral. Álvarez de Castro 8
Horario:
Domingo a jueves de 11:00 a 01:30h.
viernes y sábado de 11:00 a 02:30h.