Sportivo es una tienda de Moda para Hombre ubicado en el barrio de Conde Duque donde encontrarás un amplia oferta de marcas internacionales. Su propuesta se dirige a un hombre joven con estilo, amante de la moda, que quiere ir arreglado pero informal y que busca diferenciarse del resto, huyendo de las prendas convencionales que podemos encontrar en las grandes cadenas de moda.
Sportivo is a fashion store for men located in the area of Conde Duque, where you will find a wide range of international brands. His proposal is aimed at a male young stylish, lover of fashion, who wants to go arranged but informal and seeking to differentiate themselves from the rest, fleeing from conventional clothes that can be found in large fashion chains.
Sportivo se diferencia por su estudiada selección de firmas de la mano de las marcas de moda más populares. Si buscas moda para hombre  con toque deportivo no debes dejar de pasar por este espacio, donde seguro que encuentras lo que necesitas. Disponen de marcas que no encontrarás en ningún otro lugar y modelos espectaculares, piezas muy seleccionadas y de un gusto increíble . Tanto el gusto como los colores son fantásticos y cuentan con el mayor números de tallas.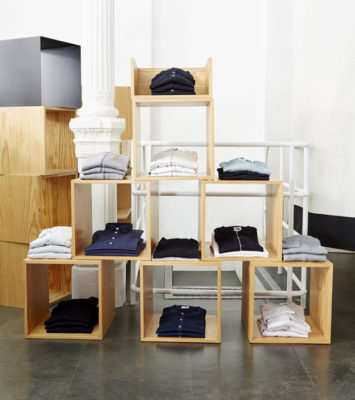 Algunas de sus marcas son A Kind of Guise, Barena, Bleu de Paname, Champion, ETQ, Études Studio, Harmony Paris, Hawksmill Denim Co, Lemaire, Libertine Libertine, Margaret Howell, Nanamica, Norse Projects, Schnayderman's, Still by Hand, Sunspel, Universal Works, Veja, YMC… En su planta baja encontrarás un mayor número de ofertas y precios más económicos. Una parada imprescindible para aquellos que quieran vestir con las últimas tendencias.
Horario Sportivo:
De Lunes a Sábado: 10h – 21h
Domingos: Cerrado
Contacto
Sportivo